October 16th-21st
Homecoming Week 2017 is October 16th-21st, 2017.
"It is a Classic" is this year's theme.

Homecoming week theme / dress up days information:

Wed, October 18th:Class Color/PTA Spirit Contest Day
Friday, October 20th: Church Campus Homecoming Pep Rally-8:30AM
Friday, October 20th: Homecoming Parade/ Pep Rally (1:00 on CC)
Friday, October 20th: Alumni Tailgate @ High School 5:30-6:30
Friday, October 20th: Homecoming Football Game vs. Hillcrest Jaguars 7:00 p.m
Saturday, October 21st: Homecoming Dance @ Battleship Park 7:30-10:30

Below are the dress up days for students. Students may choose to dress up or wear the appropriate uniform of the day: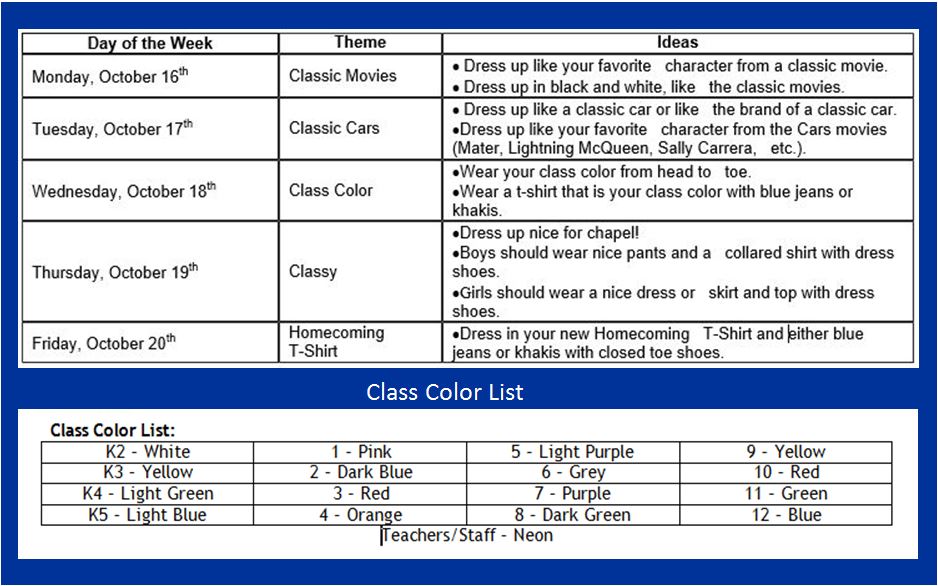 Homecoming Carnival/ Pep Rally:
Make plans on attending an all school Homecoming Carnival and Pep Rally on Thursday, October 19th from 5:30-7:30 p.m. on the West Campus. Admission is free! Food and cotton candy will be available to purchase. We hope to see you at this fun filled family event.
Homecoming Parade:
On Friday, October 20, 2017 we are excited to offer our student body an opportunity to come together and celebrate homecoming! Our West Campus students will be parading for our Church Campus students. We encourage you all to join us on the Church Campus for the fun! West Campus students will be dismissed at 12:05 and travel to the Church Campus to prepare for the parade which will begin at **1:00 p.m**. Lunch will be from 11:30-12:00. Students will either purchase pizza in the cafeteria or bring a lunch.
While the homecoming parade is a time of fun and celebration, we want to ensure that our students are as safe as possible. As such the parade festivities will be treated like a field trip. All students must have a completed and signed permission form to participate in the homecoming parade.
Parents will not be able to park in the back parking lot on Friday, October 20th due to preparations for the parade. Our crossing guard will be across Demetropolis to help students cross after parking by the gas station and ice machine.

High School Parade Participation Form

Homecoming T-shirts preview. T-shirt order form
Homecoming Dance:
The homecoming dance will take place on Saturday, October 21st at Battleship Park Hanger. The dance is from 7:30-10:30 p.m. Tickets are on NOW sale during lunch waves. Date Request Form
Congratulations to The 2017 Homecoming Court:

7th Grade: Audrey Borgatti and Alyssa Huff
8th Grade: Emma Grace Jones and Averi Lammons
9th Grade: Kylie Thompson, Emily Thullensen
10th Grade: Morgan Capps, Anne Morgan Swearingen
11th Grade: Skylar Evans, Maggie Roffler
12th Grade: Emily Andrews, Gracie Clark, Alyssa Schum, Jasmine Vo